Engraved Forever
Our custom glass block engraving lasts longer than stickers. With engraving you never have to worry about fading or peeling. A custom engraved glass block is a perfect gift or keepsake when you need something to mark an occassion forever.
We offer custom laser engraved glass banks used in so many ways by our customers.
Wall & Window Murals
Glass Block Banks
Commemorative Banks
Company Logo Banks
Graduation/School Glass Banks
Decorative Glass Blocks
Gifts & Giveaways
Vacation Spots & Tourist Gifts
Sports Teams
Fund Raisers
Trophey & Plaque Alternative
Encouragement to Save For a Special Trip or Item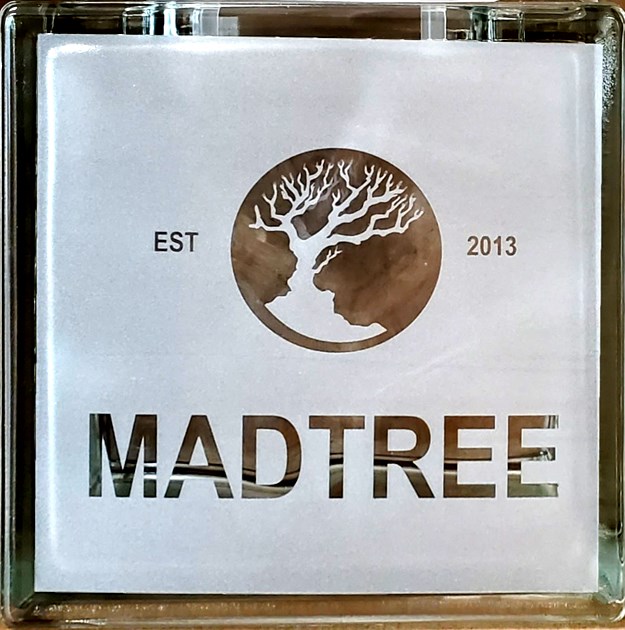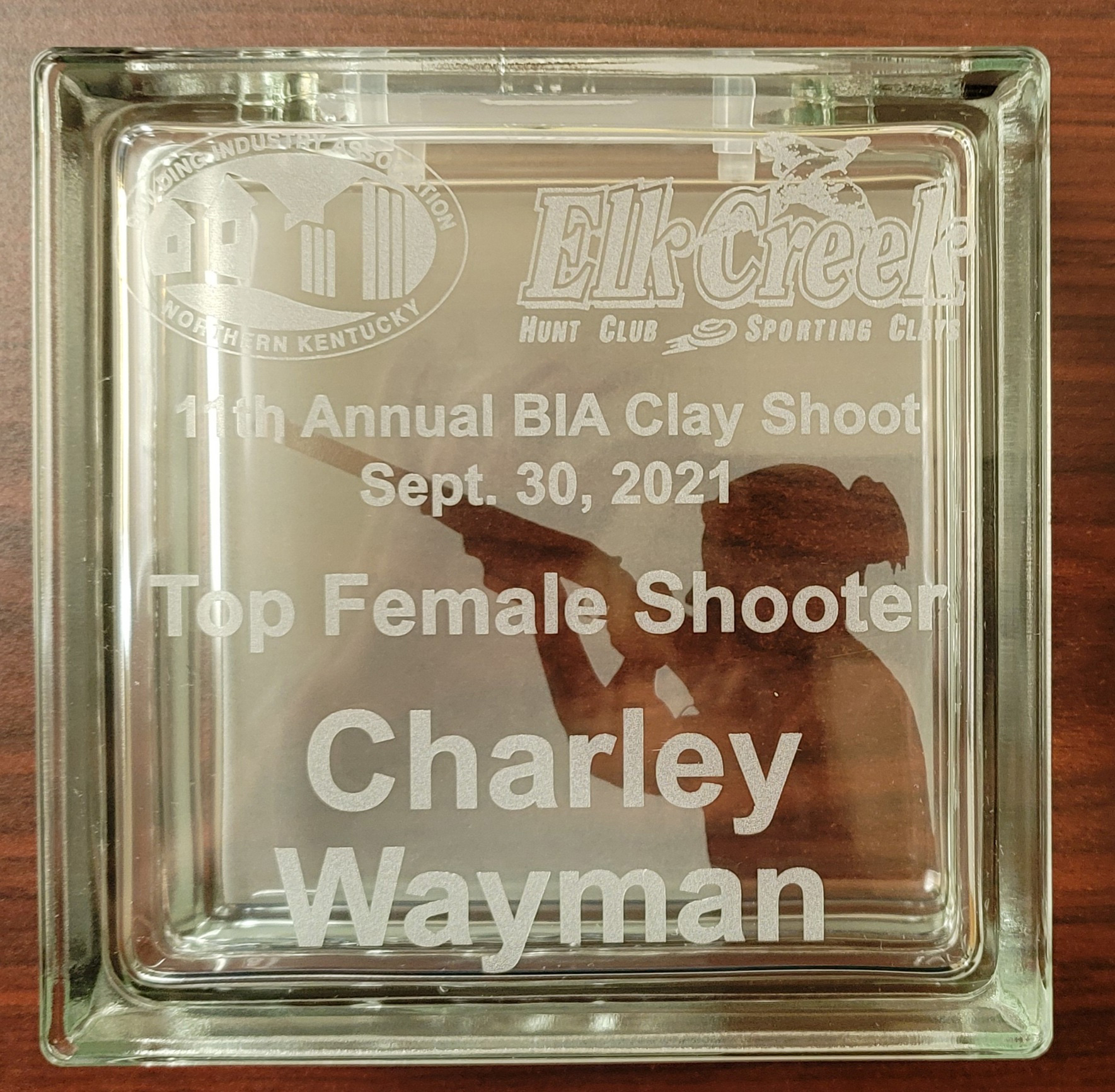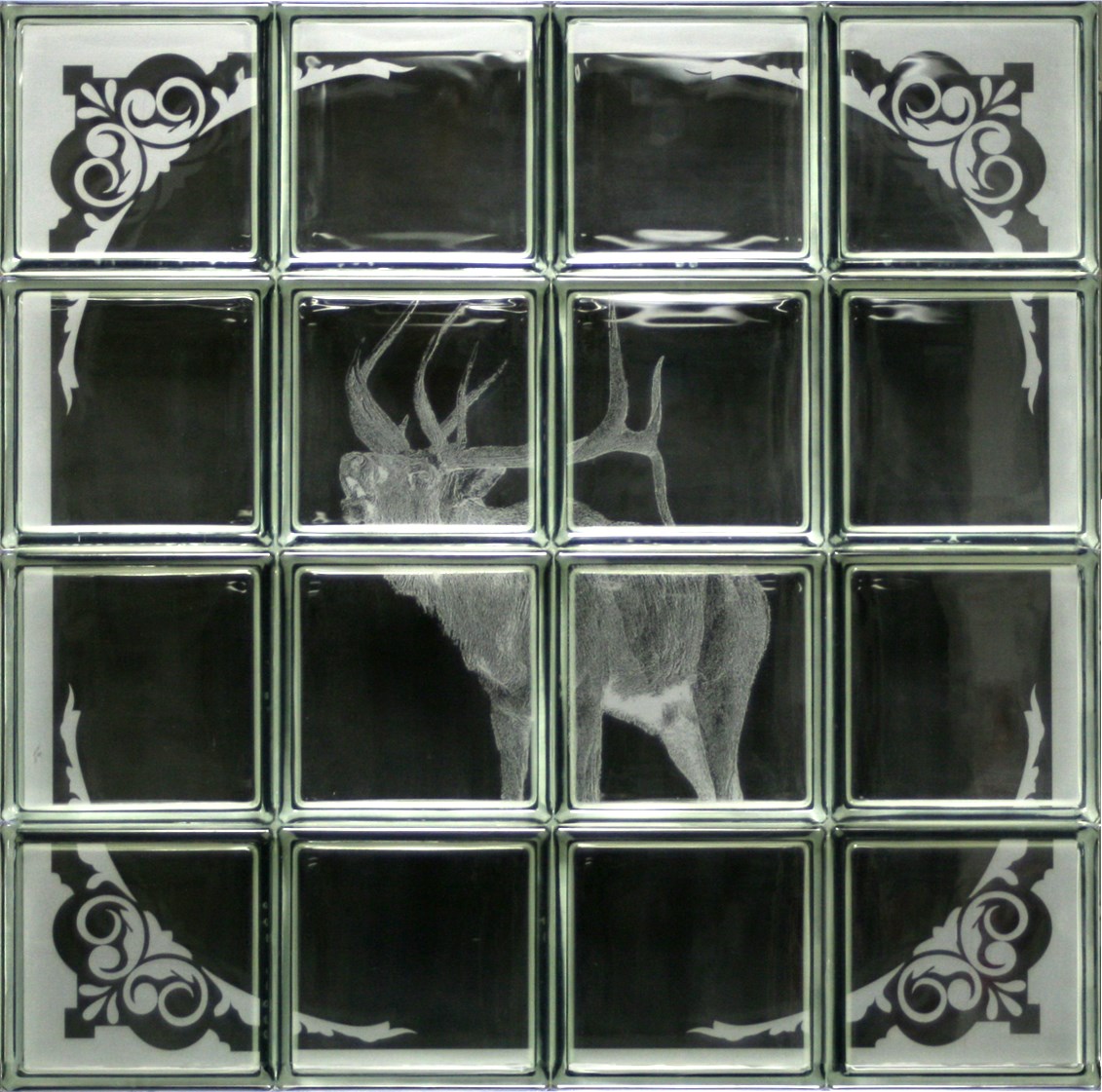 STEP 1: CHOOSE A MEDIA TYPE
This could be a single standard glass block, a craft block (bank/ vase), or a window assembly.
STEP 2: CHOOSE AN IMAGE
This could be portraits, logos, scenes, words and letters, numbers or other graphics.
STEP 3: GET THE IMAGE TO US
 Send us the highest quality resolution you can. We will let
you know if it's not usable
STEP 4: APPROVE THE EXAMPLE
 If we have to edit your image for better quality engraving, we will send you an example showing what changes were deemed necessary.
Step 1: Choose a media type. This could be a single standard glass block, a craft block (bank/vase), or a window assembly.
Step 2: Choose an image. This could be a portrait, logo, scene, words and letter, numbers or other graphic.
Step 3: Get the image to us. This is probably more important than the image you choose to have engraved. Send us the highest quality resolution you can. We will let you know if it's not usable. *See tips below.
Limitations
Glass is one of the more difficult materials to engrave. Almost any photo can be converted to "black and white". When engraving an image on a solid material, it appears black and (whatever color the media is). Glass is tricky because the finished engraving is a single color (usually white) on a transparent background.
Our laser will engrave glass in very high detail as you'll see in an example on the next page. It's a process of many hundreds of lines per inch on two axes. These intersecting lines create a grid and each block on the grid is either marked, or not marked. Higher resolution images provide more pixels to coordinate with that grid. Examples of more or fewer pixels: The "heart" on the left has twice the pixels as the "heart" on the right though both images are dimensionally the same size.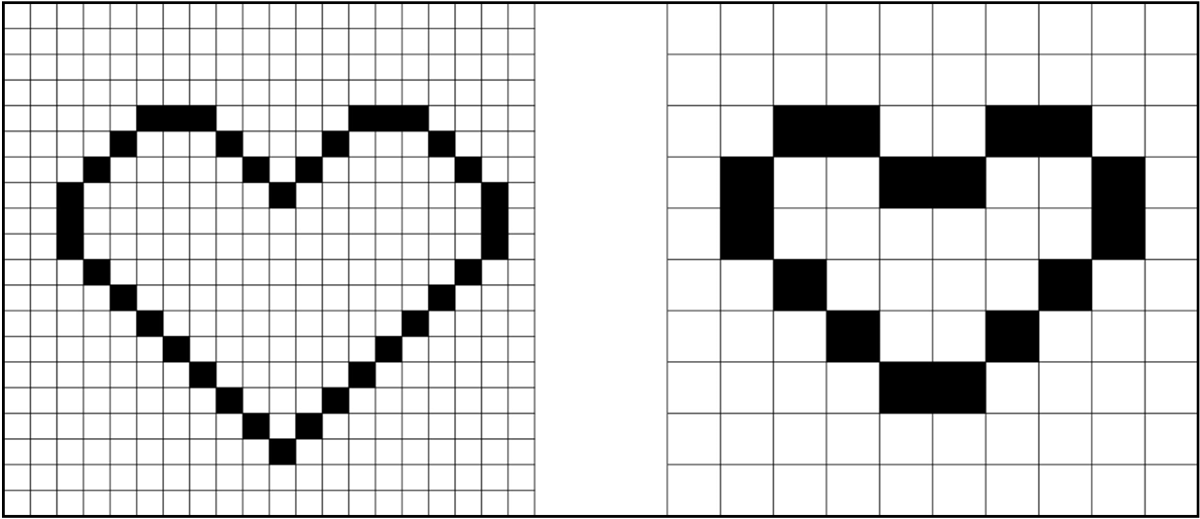 Quantity Pricing ,Fund Raising, and Retailing
Other than electricity and the block itself; there are virtually no consumables for this process. The majority of the cost to do this is in the preparation of the image or graphic so that it is well represented when engraved on the glass. For this reason, the second copy and all subsequent copies are considerably less expensive than the first.
You've seen cookies, popcorn, candles, and candy as fund raisers. Those have been standard fare since even I was a kid. People are getting wiser and as a result, that $15 bag of popcorn might not be as appealing as it once was.
Since these blocks are also banks, it could be as simple as engraving the cause and using the block itself as the collection device.
This is a unique gift idea that can be profitable for any organization, and it's permanent as either a decoration, or a window. We're happy to discuss these types of opportunities with you.
If you're a retail business we can provide samples and literature for your showroom display. We can engrave your company information on the rear of the block to let everyone who sees it know where it came from. We can work with you on proprietary designs to separate you from others as well.
Custom orders can be completed and ready to pick-up, ship, or deliver in as little as 1-3 business days from the time we receive the order (and image if applicable) which makes it possible to accommodate short-notice events like funerals.
Decobloc is popular in the crafting community because they serve several purposes like banks, table centerpieces, and night lights, among others. We can work with you on retail packaging and bulk pricing.
If you wish to discuss further please don't hesitate to reach out.
Tips to get the highest quality engraving
Cell phone images are fine. BUT, these images should be of their original resolution. When emailing a photo from a cell phone, it will almost always be downsized due to restriction by the cell phone carrier. It could be as small as 20% of the original image size. When you send an image via text message, you may only have 5% of the original pixel count. It's best to share photos via a hosting site like Dropbox, a thumb-drive, or emailed from a computer after moving the photo there via cable or Bluetooth tether.
If you have an older photo that's not already digitized, you can have it scanned in High Definition. This isn't something we do in-house. Usually an office supply store that prints posters and banners can scan, enlarge and digitize it.
If all you have is a poor quality image, we can try to clean it up. This takes time, and may incur additional processing charges.
If you only have an image on your phone that's been sent to you via text message, you can try to convert it to black and white, or better yet have the person who sent it to you convert it to black and white before sending. Sometimes this will work because removing the color information from the image can make the image small enough to send without degrading resolution.
Splitting an image is a possibility as well when it comes to sending cell phone photos. You can "crop" the image to leave only 1/2 or 1/4 of the image, save that copy separate from the original, crop again saving a different portion and then send the two halves separately. We can put the image back together and process it.
We will only engrave "decent" images. This means no nudity or profanity, or anything else that may be offensive.
We assume you own all rights to the image you provide. You're paying for the block itself and the service to engrave your image on it. Therefore, it is your responsibility to get permission from the owner of the image if your intention is to resell the item.
At this time we do not have a library of available shapes, borders, graphics, text, or other line art. There are several places on the internet to download royalty free, or small fee/donation graphics.
 We can help with the composition of your engraving if need be. If you have an idea, we can help fine tune it into something unique.
Basically; the laser uses light energy to vaporize and erode the glass on the surface thereby removing it and creating the image.

There are two ways images are engraved – "Positive" which is where the dark portions of the image is engraved, and "Negative", where the light portions are engraved.
Whether or not we engrave the "positive" or the "negative" depends primarily on the content of the image. For the most part, text or 2D logos look good either way while photography more often than not looks better negative.
 There are any number of reasons why someone would want an engraved glass block.
Memorials of loved ones or pets
Weddings, births, or other events
Fund raisers for teams, clubs, and organizations
Windows where a standard glass block pattern isn't as appealing
SWAG (Stuff We All Get) – Corporate giveaways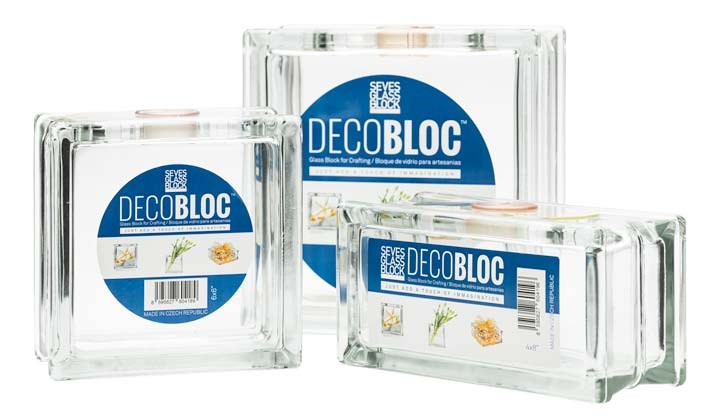 DECOBLOC – or "Craft Block" come in either a wavy pattern or transparent (without a pattern). Engraving almost always looks better on the transparent block.
Available Sizes: 7.5" x 7.5", 5.75" x 5.75", or 7.75" x 3.75"
Each has an oval opening on the top that measures approximately 4.25" x 1.25" and comes with a vinyl plug with a coin slot.
They can be used as banks, vases, night lights, or you can fill and decorate them any way you like. We only use SEVES glass blocks so in addition to their DECOBLOC, you can choose traditional blocks from dozens of sizes, patterns, and even colors.
To see what's available, visit cincinnatiglassblock.com
Memorials aren't just about loved ones who've passed.
They could be about family or places you've been, or even places you've been with your family, births, weddings, graduations, or anything you want to commemorate.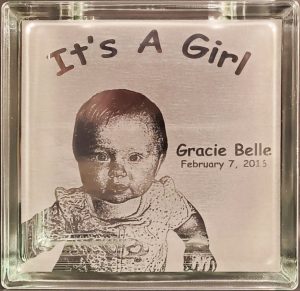 Memorials are one of the most popular uses for these engraved blocks. The blocks themselves are real glass and the tribute is engraved into the surface rather than merely a topically applied sticker or paint, they are durable in virtually any environment.
Many have been filled with solar powered lights and placed at grave marker of passed love ones. Even more sit on shelves, fire place mantles, book cases, or window sills.
They can be filled with flowers, colored sand, ribbon or virtually anything that will help preserve the memory of a person or pet.
The engraving itself can include a message, name, dates, Bible passage, or other words or phrases in virtually any font. Images can range from a border with a message, a photo with a message, or any combination.
The options are limited only by your imagination.